Featured
Bosch and Nanalysis Announce Joint Product Development Collaboration
Calgary, Alberta, Canada
October 28, 2019
Nanalysis Scientific Corp. (the "Company" or "Nanalysis", TSXV:NSCI), is pleased to announce that as of October 23rd, it has entered into a collaboration agreement with Robert Bosch GmbH (Bosch) to jointly develop products for the growing market industrial Nuclear Magnetic Resonance (NMR) products for applications such as on-board fuel analyzers for cargo ships, driven by new international environmental standards against dirty fuels, which would be distributed by Bosch. The collaborative work will begin in November 2019 and joint development effort is expected to result in a marketable device by December 2021 and a sales agreement will be negotiated at that time.
Full release
Link to Newswire
Toronto, September 30, 2019 - An analysis of Nanalysis' 2020 growth prospects was highlighted on an episode of Market Call on BNN by renowned stock analyst Bob McWhirter.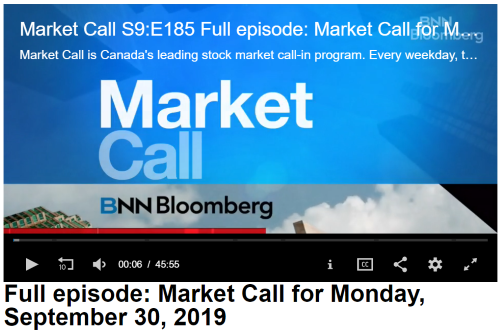 NSCI Commentary on
BNN Bloomberg Market Call
Press Releases
Calgary, August 28, 2019 - Nanalysis released its Q2 financial results for the period ended June 30, 2019. Revenues in the first half of 2019 were approximately $4.5 million and gross margins rose to 67%.
Calgary, August 26, 2019 - Nanalysis Scientific Corp. announced the world's first ever 100 MHz compact NMR device with unprecedented performance metrics including superior resolution and sensitivity, plus over 25% better signal dispersion than any competing compact NMR device on the market.
Vancouver, July 17, 2019 - As of July 2019, Nanalysis Scientific Corp. completed its most successful Q2 in the company's history, shipping 42 benchtop NMR instruments representing approximately $2.6 million in sales for the three-month period ended June 30th, 2019.
Calgary, June 10, 2019 - Nanalysis Scientific Corp. has closed a non-brokered private placement with the Chairman of Factors Group. Nanalysis issued 2,500,000 units ("Units") at $0.60 per Unit for a total gross proceeds of $1,500,000. Each Unit consists of one common share of Nanalysis ("Common Share") and one half of one Common Share purchase warrant ("Warrant")
Vancouver, June 4, 2019 - Nanalysis Scientific Corp. (formerly Canvass Ventures Ltd.) completed the previously-announced qualifying transaction under the policies of the TSX Venture Exchange.
Vancouver, May 24, 2019 - Canvass Ventures Ltd. has received conditional approval from the TSX Venture Exchange for its qualifying transaction with Nanalysis Corp., whereby Canvass will acquire all of the outstanding Class A common shares of Nanalysis by way of a three-corner amalgamation among Canvass, Nanalysis, and 2176406 Alberta Ltd., a wholly owned subsidiary of Canvass. Canvass will operate as Nanalysis Scientific Corp.